For those of us who enjoy bathing but find having a bath increasingly difficult then the solution may well be a shower chair. The risk of slipping when either getting into a bath or out of the bath is always present, especially if the bath is enamel without foot grips on the bottom surface.  There is a simple alternative for you to solve your bathing needs.  The device is the shower chair and it specifically designed to enable you to sit down whilst enjoying a refreshing shower.
Shower chairs are not just any old chair used in the bathroom.  Because they are clearly used in very wet conditions they must be built using materials that repel water, in fact are completely water resistant.  Typically they will also have rubber feet for grip thus endeavouring to make it possible for anyone who for any reason has difficulty standing in the shower the opportunity to enjoy all the benefits of taking a shower in the privacy of their own bathroom without any of the inconvenience.
As you will probably know there are many different shapes, sizes and styles of shower enclosure, from shower cubicles through showers within baths and wet room style showers.  As a result it is not possible to have a one size fits all approach when it comes to the design of shower chairs.  The consequence of this is that there are many different models of shower chair that can fit in and be useful in just about any shape or size of shower stall.  And because not all bathrooms have a large amount of room, there are shower chairs designed to fold away into small spaces when not in use. If you are looking for best shower chair in UK, then continue reading this article.
The Simple Rigid Shower Chair For Elderly
Starting with the simplest shower chair design.  This chair is a simple rigid chair made from lightweight resin materials.  Although the material is lightweight it will also likely be very robust. The design is straightforward.  It is a sitting chair with an upright back.  It may or may not have arms, in fact there are models available on the market of either type.
Almost all shower chair models have rubber, or suction type devices on each of the feet of the chair. As previously stated this is purely to help prevent the shower chair from slipping or sliding around once in place within the shower enclosure.
Typically, because this simplest of shower chairs is very light, being made of resin materials it will be a very simple process to place the chair in the shower enclosure and remove once use has finished, without excessive amounts of effort being required or risk of damage to the bathroom.  This is useful as it enables the shower to be used perhaps by other members of the family who do not depend upon the use of the shower chair to fully enjoy their bathing experience.
The Retractable Or Fold Away Shower Chair
Moving on to another popular but still simple style of shower chair.  The retractable shower chair.  These do not and are not complex retracting devices.  Rather the retraction tends to be a simple process of folding up from the wall, or alternatively folding down and locking into place.  The chair will usually be attached with a form of hinge mechanism to an appropriate wall within the shower enclosure.  The wall used should be relatively sturdy, as should the wall fittings as they will almost certainly be taking the full weight of the person having a shower once the shower chair is in use. Follow this guide for choosing shower chairs in 2018.
As this retractable type of shower chair will be put away by folding back against the wall rather than removing it from the shower enclosure after every use it does not necessarily have to be made from very light resin type materials.  Indeed as a result many of the retractable shower chair models will be made from hardwoods, such as teak, that have been specifically treated to ensure long lasting water resistance.
In order to use the shower chair you simply swing the chair seat into the horizontal position and ensure it locks into place.  After use the shower chair simply swings up or down and is locked back against the wall into place and out of the way.
The retractable shower chair, whilst not taking up too much room in the shower enclosure when not in use will still almost certainly be a permanent fixture inside the shower.  The reason this type of shower chair is reasonably convenient as it is always present and can be used by anyone without significant difficulty but at the same time is not in the way when those who don't need a shower chair wish to take a shower.
The Permanent Shower Chair For Disabled
It is possible to create a permanent seat within the shower enclosure.  This type of shower chair can either be specifically deigned as being integral to the shower enclosure and tiled with the rest of the bathroom, or it can be a specially designed chair which requires specialist installation.  Models of this type of shower chair might also be constructed from marble or granite or even a similar type of material to that used on kitchen surfaces.  These types of shower chair will be waterproof by their very nature and very easy to  keep clean.
Needless to say this type of shower chair requires sufficient space to ensure that those who do not need a shower chair or do not wish to use one have sufficient space with which to enjoy their own shower in comfort.
Shower Chairs With Wheel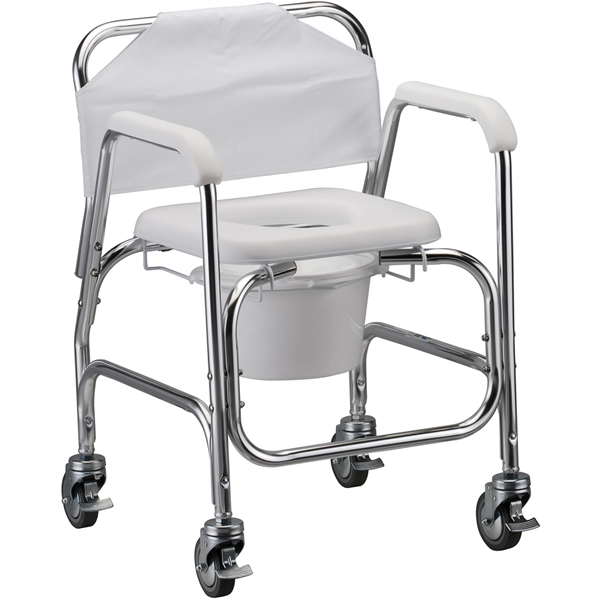 There are a number of factors one should consider when choosing a shower chair. The feature of utmost importance is the non-slip feet. Two hands are needed to press levers that unlock the brackets before you lift the bench up for sitting. Older adults will enjoy greater peace of mind when stepping in and out of the tub or shower. Ask yourself if you need back support, and how much.
The chair is meant to make you feel safe, so it would be inexcusable if the chair itself couldn't hold up.
The bench depth is two inches from the wall when it's mounted and folded down, taking almost no space in the shower.
Shower seats for elderly adults increase independence, and shower chairs and transfer benches reduce back strain for both users and caretakers.
Some may need full back support, while others who don't need back support may find that it gets in their way when scrubbing certain parts of their body.
Look for ones with a strong frame design, and high weight capacity.
And you never see the hardware once it's installed so it looks good whether the seat is open or it's folded down for storage. Those with disabilities, those who have difficulty standing too long, or those who suffer from dizzy spells while in the shower will benefit from resting on a stool or bench. Some models feature hanging baskets or compartments to hold soap and other toiletries, which can be very convenient for those who cannot stand at all or choose not to. Whether or not you want a back on the chair is up to personal preference. Proper support is essential for stability while showering.
Lightweight and Tall. The first thing you need to think is the construction quality. Chairs with backs will usually be more comfortable to sit in, while stool-style chairs give you a bit more freedom of movement. Choose a shower chair with adequate back support and arm rests. Drive Medical's chair weighs 9 pounds despite its large surface area and considerably multiple parts.
Try to buy a shower chair that comes with premium quality construction. Some shower chairs have armrests and back support and make it more stable. Depending on the type of chair, arm rests may be permanent or removable. This makes it easy to carry yet comfortable enough for people weighing up to 350 lbs. However, long-lasting shower chair usually constructed with durable plastic or aluminum frame that is rust free. Depending on the chair type, you can choose the adjustable or non-adjustable arm and backrest. Nobody wants to purchase a shower chair frequently. So, pick one but pick wisely.
Shower Chair Prices
Obviously the price of all the different types of shower chair will vary, sometime significantly. The simple resin construction lightweight shower chair will be relatively cheap.  They are useful and very portable and will help those who have temporary mobility problems continue to be able to bath in relative privacy and comfort.
The retractable shower chairs are also relatively inexpensive, although the hardwood versions can be more expensive.  As noted the fitting of these retractable chairs are important ans should generally be installed by a professional.
The permanent shower chair are inevitably the most expensive, especially if they are not being installed as part of an overall bathroom refurbishment.  Having said that a properly installed permanent shower chair in a spacious shower environment can be very luxurious and give a really great shower experience.